Originally posted on FUTURE PRIMATE:
Dalai Lama Tells His Facebook Friends That 'Religion Is No Longer Adequate'
On Monday, His Holiness the Dalai Lama took to Facebook to tell his four million friends that "religion is no longer adequate."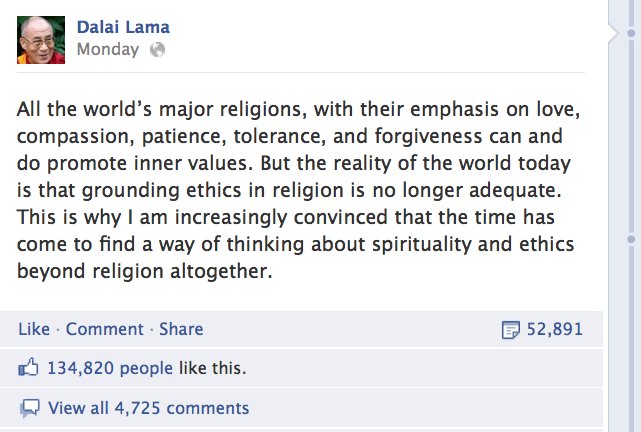 The Tibetan religious leader was quoting from a book he published last year, entitled "Beyond Religion: Ethics for a Whole World," in which he argues that religion by itself may no longer provide a satisfactory solution to the ills of the world.
"Any religion-based answer to the problem of our neglect of inner values can never be universal, and so will be inadequate. What we need today is an approach to ethics which makes no recourse to religion and can be equally acceptable to those with faith and those without: a secular ethics," he wrote.
In a review of the Dalai Lama's work, however, the Los Angeles Times notes the 77-year-old Buddhist monk was…
View original 262 more words